5 Best Summer Cocktail Recipes for Your Pool Party
With the warm sun beating down on your skin and the waves crashing against the sand, it is definitely time to start thinking about your swimwear. As an Australian swimwear boutique, we understand how important this part of your summer wardrobe is.
From one-piece swimwear to the perfect bikini, it is time to buy your swimwear online and get your summer started.
Sustainable, durable and environmentally friendly swimwear is the perfect addition to your closet. 
Now that you have the perfect look from a trusted Australian swimwear brand, your summer look is complete, right?
Oh, wait. There is actually still one thing missing:
Cocktails!
Summer is even more fun with a drink in your hand that complements the weather and your outfit so nicely. 
Here are a few of our top summer drinks to pair with your environmentally friendly fashion:
1. Peach Bourbon Arnold Palmer
Who says you can't put a unique twist on a classic? An Arnold Palmer is traditionally half tea (sweet or unsweet) and half lemonade. So, this is already a great summer classic. But if you are looking to take this to your cocktail party, we would recommend spicing it up a bit.

Get the recipe here.
2. Blackberry Cucumber Gin and Tonic
On a warm summer day, there are few things more refreshing than a light drink. Mixing clear liquor and tonic water then diversifying the flavour and adding a hint of summer by topping it off with fruit and vegetables are a great way to keep it light. 
This blackberry cucumber gin and tonic is great by the pool, on the back porch with your friends or for a day in the sand. Especially if you are looking for an end-of-summer cocktail, this is your go-to!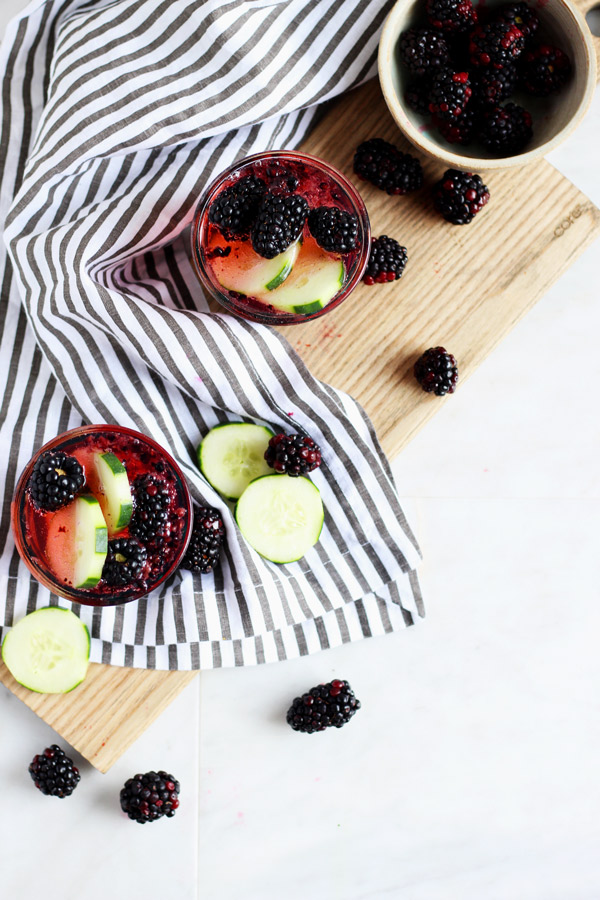 Get the recipe here.
3. Frozen Pineapple Mango Daiquiri
A daiquiri? Sign us up! A frozen pineapple mango daiquiri? Sign us up for a few! 
This summer cocktail can be enjoyed any day of the week. And doesn't the fresh fruit make it healthy?
A fruity frozen drink is a quick and delightful way to cool down and enjoy some R&R (rest and relaxation) time. 
Bonus tip: If you are enjoying this one at home with your significant other, but a babysitter isn't in the plans, you can even make this a family affair! Simply replace the white rum with water or juice, and you have a virgin frozen pineapple mango daiquiri that is perfect to share with the kids.
Get the recipe here.
4. Mint Julep
You just can't go wrong with a tried and true mint julep. If basil isn't really your thing – like in the cranberry basil spritzer – but you still want the refreshing aroma and flavour from a herb, the mint julep might be more of what you are looking for.


Get the recipe here.
5. Cranberry Basil Spritzer
Like the gin and tonic, a spritzer is a great flavourful drink, but it is still light and refreshing! And since it has water, we can technically say it's hydrating too, right?

The basil and cranberry in this drink make for a dynamic duo that is definitely best enjoyed in Australian swimwear.


Get the recipe here.
Whether you are having a cookout with friends, hanging out in your one-piece swimwear by the pool or just relaxing on the patio at the end of a long day, these summer cocktails are sure to make your activity even better! We plan to test out one or all of these this summer.
What are your favourite summer cocktails? We'd love to hear even more great recipes from you in the comments! 
Leave a comment